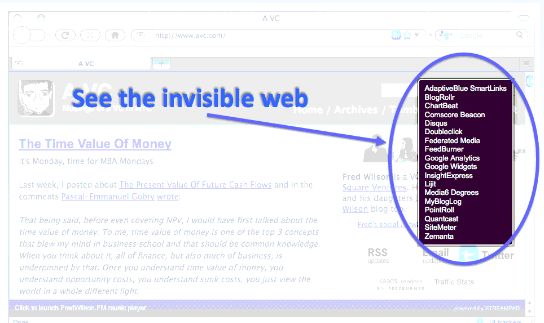 You can't really log in to Ghostery. It's a browser extension that inspects the websites you're surfing.
We like Ghostery because it tells you how sophisticated your competition is. It will tell you if they are using analytics, such as Google Analytics, Site Catalyst or Coremetrics. It will also tell you if they have installed testing software, such as Visual Website Optimizer or Test and Target.
If you see a service on a site that you don't recognize, Ghostery will tell you quite a bit about it.
Maybe your competitors know something you don't.
Ghostery is your window into the invisible web – tags, web bugs, pixels and beacons that are included on web pages in order to get an idea of your online behavior. Ghostery tracks the trackers and gives you a roll-call of the ad networks, behavioral data providers, web publishers, and other companies interested in your activity.